Gardenia - direction of Zoltán Balázs in Tunisia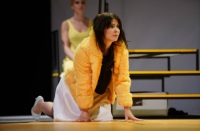 The Odeon Theatre from Bucharest premiered the Gardenia by the contemporary Polish writer Elzbieta Chowaniecz directed by Zoltán Balázs. The performance had a debut in Tunis on 15th of December at the 20th Journées Theatraled De Cartage Festival which is one of the most important international festivals of the Arab-African region. The event presents very diverse genres (from prose to dance, form classics to contemporary) during the seven days full of professional programs and innovative performances.

Thanks to the success of the Gardenia and the personal and professional relation with the company the leader of Maladype Theatre got a recent invitation for the second part of the season 2018/2019. Zoltán Balázs this time will direct the contemporary Italian dare-devil, Pier Lorenzo Pisano's play, the For Your Own Good. The premiere will be at the end of May - as the Gardenia - in the frame of the FabulaMundi Playwriting Europe international project.

In November 2018 at the FNT - National Theatre Festival Romania the direction of Zoltán Balázs got several invitations abroad. During the season 2018/2019 the Odeon Theatre will be present on festivals in Spain, Italy and Columbia.

About the Gardenia:

In the piece of Elzbieta Chowaniecz the roles are nameless women who are marked with numbers. The Gardenia is a detailed family story: the drama of Polish women of four generations, the elder was born in 1920, her daughter in 1942, her doughter in 1962, and the youngest in 1982. While they live through the whole history of the 20th century with warfare and peace, richness and poorness, their complex but still simple relations are revealed between the mother and daughter, grandmother and granddaughter, great-grandmother and great-granddaughter. How the inheritable vain and taught patterns influence (our) behaviour? Can we decolonize ourselves from the social circumstances? Can we back out of the pressure from the family's tradition-innervation? Among others Elzbieta Chowaniecz's drama seeks the answer for these questions.