Louis - Lagarce premiere at Maladype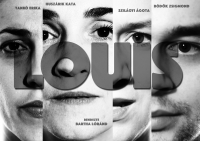 The Maladype Theatre presented the Louis performance based on Jean-Luc Lagarce: Juste la fin du monde. The collective work of Lóránd Bartha and the company was presented four times in May and will be played next season at the Maladype Base on Mikszáth square.
This is the first Lagarce drama premiered in Hungary. The particular universe of the writer this time is presented in the translation and direction of Lóránd Bartha and the fictional game is played by the four actors of the company: Zsigmond Bödők, Kata Huszárik, Ágota Szilágyi, Erika Tankó. Louis is a journey through death infiltrating deep into hose mind who survived till now. Like strong black tea steeped in a cup of water darkening the liquid; the flavors mature and get enriched, while the water got stained with irreversible darkness. The family left behind refuses the time every Sunday afternoon to develop their sense bearing the absence. Louis is an act about us facing the last mirror between death and life.
Lagarce wrote this drama with a cuel poetry and the company created their own liturgy in which the actors designed the music and costumes. Our Louis performance is an individual and collective dive which creates an "absence-oratorio" on a canvas in a room.
Cast:
Mother: Kata Huszárik
Suzanne: Ágota Szilágyi
Antoine: Zsigmond Bödők
Catherine: Erika Tankó
Translation, adaptation: Lóránd Bartha
Music: Ágota Szilágyi, Zsigmond Bödők
Set: Lóránd Bartha
Costumes: Erika Tankó
Production manager: Katalin Balázs
Director: Lóránd Bartha and the company