The Maladype Theatre on tour again in Poland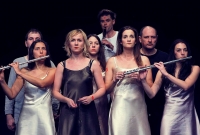 László Sáry's Great Sound in the Rush chamber opera is a success story: the piece directed by Zoltán Balázs was premiered in 2015 at the Bartók International Seminar and Festival in Szombathely as a coproduction of the Maladype Theatre and the Qaartsiluni Ensamble. The premiere was followed by national and international tours (Valley of Arts Festival - Taliándörögd; Third Theatre - Pécs; Central European Theatre Festival - Kosice, Slovakia; Théâtre Saint-Gervais - Geneva, Switzerland; Musiktheatertage Wien Festival - Wien, Austria; Teatr Szekspirowski - Gdańsk, Poland; Dom Kutury - Warsaw, Poland). In 2016 won the Artisjus-prize for the best original play of the year.
After the sucessful Theomachia performance (directed by Zoltán Balázs and Ilona Béres in the main role) this piece of László Sáry reinvented the Weöres-poetry and offers a special event of contemporary music and theatre and the worthy celebration of the composer.
The works of Zoltán Balázs had success many times in Hungary and abroad: his direction in Chicago, the History of Communism for Mental Patients won the prize for Best Director at the ATELIER International Theatre Festival; the critics in Chicago nominated for the Best Perfromance of the Jefferson Awards. Earlier the Maladype Theatre's Ubu King celebrated it's 100th perfromance in the United States; the Leonce and Lena had 100 presentation as well, and besides others was played at the DIALOG International Theatre Festival in Wroclaw. The Egg(s)hell performance based on the singe-breasted by Sándor Weöres was played almost 80 times and won the main prize of the INFANT International Arts Festival, and it was a guest at the Teatr Baza in Warsaw; and Checkov's Platonov was played for 40 times.
The Great Sound in the Rush performance's previous venue in Geneva was familiar for the leader of Maladype Theatre, since on the autumn of 2016 had a presentation about the independent theatre scene in Hungary at the Ici c'est ailleurs festival, where Philippe Macasdar, the manager of Theatre Geneva noticed the Maladype Theatre's spirituality and innovative intent. The performance was also invited to the Musiktheatertage Wien by Thomas Desi festival director, where besides the audience talk and professional meetings, Zoltán Balázs director held a workshop based on his own method, named Gold-Bug.