Jean Genet's The Balcony at the Maladype Base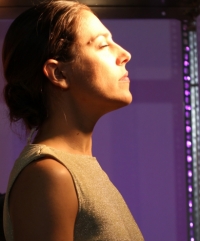 On October 3, Maladype Theatre presents Jean Genet's famous The Balcony staged by Sándor Zsótér, translated by Júlia Ungár. 13 years after the revelative, critically and publically acclaimed The Blacks premiere in 2004, Maladype decided to stage another absurd vision from the determining figure of universal drama literature, which rewrites the traditions of realist acting.

The significance of this exclusive theatrical event is enhanced by the fact that the play was last staged in Hungary more than 20 years ago. In his world-famous play, the author with a twisted soul and a rough and tumble life, mercilessly exposes the distorting effects of societies, the "eroticism of power" through crime, punishment and purgation. In the house of illusions, the big Balcony, customers – with the help of prerequisites, stage design elements and costumes – can project themselves into roles which otherwise would be out of reach for them. While we witness strictly secretive role plays in the rooms, a revolution rises outside, on the streets. Jean Genet continuously balances between imagination and reality, for the characters both become difficult to define: is it possible that in their fake sense of reality the only thing they crave is to play different roles and wear more and more masks?

The creative relationship between Sándor Zsótér and Maladype Theatre began in 2006, at the Budapest Autumn Festival where Wyspiański's Acropolis debuted. Zsótér staged Musset's Lorenzaccio in 2008, Beaumarchais's The Marriage of Figaro (with Mari Törőcsik in Marcelina's role) in 2009 for the Maladype company. After successful festival performances in Romania and Austria, Zsótér directed Brecht's Don Juan in 2013 which was invited to Serbia. His Richard III, which debuted in May 2016, with Zoltán Balázs in the title role, was invited to the Gyula Shakespeare Festival. The encounter of the playwright with bizarre visions organized in unique dramaturgical systems, the director known for his unusual stage solutions and the innovative Maladype promises a unique experience for lovers of theatre.