Zoltán Balázs was awarded Best Director at the 24th ATELIER International Theater Festival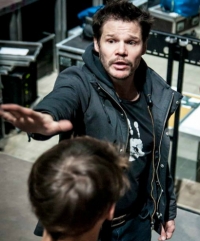 Zoltán Balázs was awarded Best Director at the 24th ATELIER International!

Theater Festival. Matei Vişniec's absurdist play, How to Explain the History of Communism to Mental Patients traveled to SIBFEST International Theater Festival in Sibiu, after Maladype's leader successfully staging it in Chicago at Trap Door Theatre in 2016, and then in Budapest. The performance also earned the appreciation of the professional jury and the audience in Baia Mare. Back in Chicago, the play was recognized by the critics with the Jefferson Award in multiple categories (Best, performance, Best director, Best male lead, Best set and costume); in Baia Mare, the jury of 5 professionals also had to consider the performance in various categories before presenting the director with the prize.

Founded in 1992 by Radu Macrinici, writer and dramatist, the ATELIER International Theater Festival is, by its own definition, a theatrical manifesto for non-conventional productions and creators characterized by research and seeking. Performances showcased here – followed by large audiences interested in contemporary and post-modern Romanian and international plays – focus on innovations in acting, directing, dramaturgy, and scenery. Organized between June 11 and 18 this year, the 24th ATELIER International Theater Festival hosted performances from the United States of America, England, Belgium, South Korea, Hungary, and Romania.

After Baia Mare and Brasov, the Trap Door Theatre performance will be shown at the summer festival in Konstanz on June 21.