Maladype Theatre turns 15!
Maladype Theatre celebrates the 15th anniversary of its foundation in season 2015/2016.

Created by Artistic Director and Director Zoltán Balázs, the performances of Maladype Theater have strenuously been examining the unique qualities of theater since its inception. The productions experimenting with a new form of theatrical expression have received attention from the profession and the public alike and have been honored with significant awards, making the company of Maladype a locally as well as internationally recognized recognized, independent formation in recent years.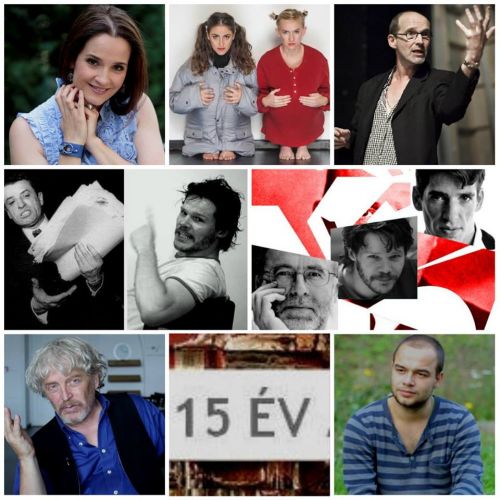 With a series of programs and new premieres throughout the season, the 15-year-old theater workshop aims to demonstrate the coherent theater-making process due to which Maladype has remained a company capable of redefining itself over and over again in recent years: placed in new contexts, Maladype has gained new insights and it continues to consider change as a natural process of theater production. Synthesizing and taking further their joint vision about the theatrical arts, the 15th season also enables the creative team and the audience to bring their research-based and community-forming work to a new level.

2015/2016 season welcomes Kata Huszárik and the fresh graduate of the University of Arts Târgu-Mureş (Romania), Zsigmond Bödők.

After a showcase performance at the International Bartók Seminar and Festival in July, László Sáry's semi-serious opera Great Sound in the Rush was performed as a coproduction between Maladype and Qaartsiluni Ensemble at various locations: before the December premiere in Budapest, the performance was staged in Pécs and Miskolc during the Music of Our Time Festival, and then at the Chamber Opera Festival in Eger.

Maladype Theatre received the exclusive rights of Viktor Kravchenko's book I Chose Freedom for Hungary and published it for the 22nd International Book Festival Budapest. Translated by Péter Konok and cover design by István Orosz, the book will be introduced to the public at the Írók Boltja (the Writers` Bookshop) on November 6.

Kravchenko's indictment against Stalin will be performed as a one-person manifesto by Zoltán Balázs on November 14. In connection with the performance, an encompassing theater-in-education program series titled `Kravchenko Case` is launched, with the inclusion of experts and consultants: Judit Bíró sociologist, head of the Minority Studies Department at Eötvös Loránd University Faculty of Social Sciences; Zsuzsanna Gyimesi, research area: Russia, administrator expert at Center of Russian Studies, Eötvös Loránd University, Faculty of Humanities; Zoltán Borbély, attorney at law, former spokesperson for the Office of the Prosecutor General; György Csepeli, sociologist, social psychologist, President of the Hungarian Sociological Association; Péter Konok, historian, translator of the publication; Attila Pók, historian, appointed director of the Institute of History at the Research Centre for the Humanities, Hungarian Academy of Sciences; Zoltán Sz. Bíró, historian, research fellow at the Institute of History at the Research Centre for the Humanities, Hungarian Academy of Sciences.

Maladype's artists Ágota Szilágyi and Erika Tankó will debut their performance - Out-let - inspired by personal experiences as a one-time special event on November 21.

In co-production between Maladype and the Mesebolt Puppet Theatre of Szombathely, the rehearsals for Chekov's Three Sisters directed by András Jeles (one of the most significant artist of research/experimental theater; multiple award-winning) will begin at Maladype Base in January 2016. The premiere is scheduled for March 10.

From the first days of 2016, Zoltán Balázs will be rehearsing Matei Vișniec's How to Explain the History of Communism to Mental Patients in the United States on invitation by the Chicago-based Trap Door Theatre.

On the occasion of the 400th anniversary of William Shakespeare's death, the dramatist's play Richard III directed by Sándor Zsótér (one of Hungary`s most influential theater directors; multiple award-winning) will be staged at the Maladype Base. The premiere is scheduled for May 14.
For the centenary of dadaism's birth, Matei Vișniec's contemporary piece, Dada Cabaret will be realized in international collaboration with music arranged by Gábriel Gábor Farkas and the performance itself directed by Zoltán Balázs. The premiere is scheduled for July 2016.

Szabolcs Hajdu's direction Ernella's at Wolf's stays on the Maladype Base's performance calendar throughout the season.

Other initiatives will be continued as well: Chamber concerts, Numera, Crossroads, Rehearsed reading events. Guests of the season include Teatr Baza from Warsaw and Kosztolányi Dezső Theatre, Novi Sad led by András Urbán. As part of the rehearsed reading sessions, the following plays are to be performed: Ten Days that Shook the World by John Reed; Life and Fate by Vasily Grossman; Darkness at Noon by Arthur Koestler; Shostakovich and Stalin by Solomon Volkov, respectively directed by László Keszég, Attila Béres, Máté Szabó, and Zoltán Balázs.