90th Ubu King!
Our guest star will be László Sinkó, the legendary Papa Ubu

Ubu King was the opening performance on Maladype Base five years ago and is part of our repertoire since then. Alfred Jarry's "apocaliptic buffoonery" will take place on 22 February (Saturday) for the 90th time by four amazing actors: Gábor Jászberényi, Zoltán Lendváczky, Ákos Orosz and Zsolt Páll.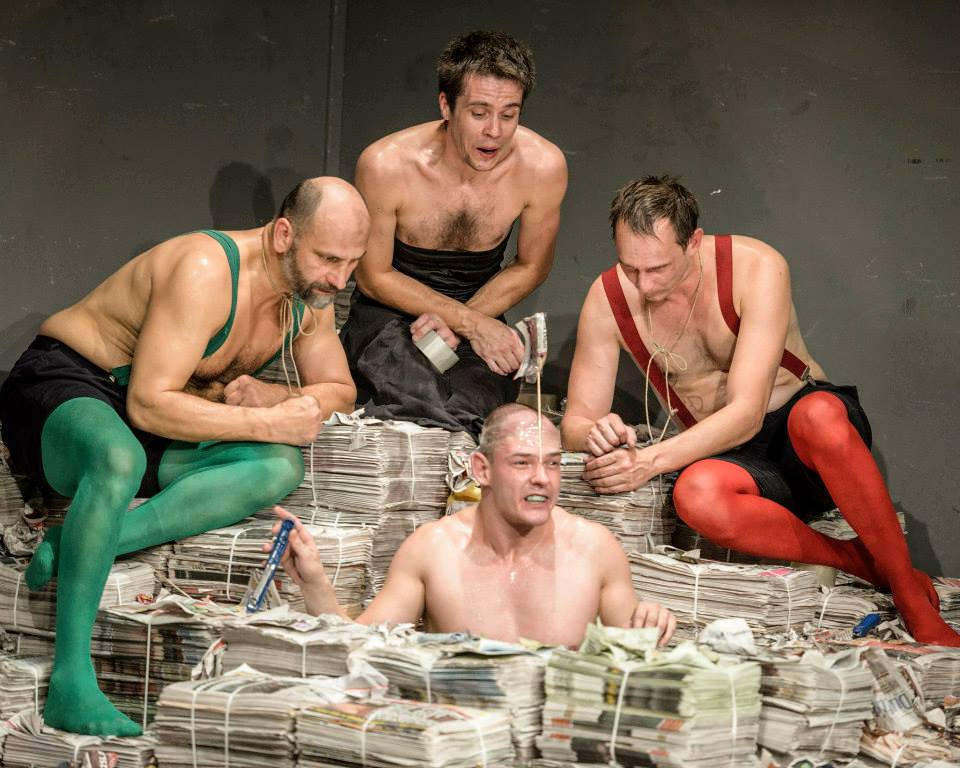 As part of Maladype's interactive theatrical experiments the opening night was preceded by an unconventional open rehearsal course not so common in Hungary at that time.During the two-month-long rehearsal process (from the read-through to the first performance) the audience members had the chance to participate in the director's and the actors' work and get an insight into the most intimate parts of creating a performance.The rehearsals focused on playing thanks to the direction of Zoltán Balázs. The actors' hazardous, authentic, unstrained play and the quick swapping between the roles was helped by the participants' constant and joyful game. The audience members became partners of the actors and in addition they were thoughtful interpreters and inspiring observers. Their ideas and active assistance was an important part of the rehearsals thus they became members of the so called Ubu Family.

On 22 February 7 p.m., on Ubu King's 90th anniversary our guest will be László Sinkó, Kossuth awarded actor, known as the legendary Papa Ubu. In 1982 he was one of the founders of Katona József Theatre, and was member of the company for 12 years. The opening night of Ubu King was on 25 October 1984 with László Sinkó and Juli Básti (Mama Ubu) in the main roles. It was on repertoire for 10 years, the audience could see it 230 times. Many years later László Sinkó said about Ubu King: "It was made like the ideal performance. We started the rehearsal process with nothing on the stage, and there wasn't any costume drafts either. We didn't know how to start and we didn't even know the end of it. This caused tension and opened our imagination."

After the 90th performance we held a meeting with the public, during which László Sinkó will talk about his memories regarding the performance of 1984, Zoltán Balázs and the actors will recall the last five years of Ubu King and talk about their future plans including the upcoming USA tour.