Ma and Al - guest performance
Based on the inspiration of the texts by Bernard-Marie Koltès and J. D. Salinger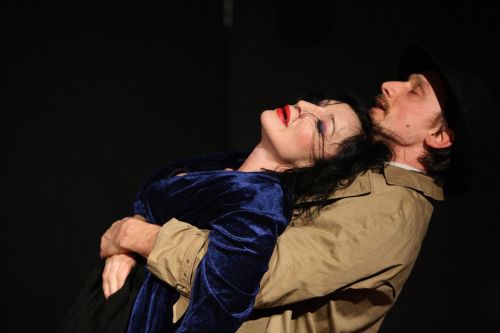 Director and text: Ivica Buljan
Actors: Senka Bulić and Marko Mandić
Costumes: Ana Savić-Gecan
Scenography: Slaven Tolj

Production: Mini Teater, Novo Kazalište Zagreb, Hotel Bulić Kazalište and ITD Zagreb / Slovenia / Croatia

Performance in English language.

Ivica Buljan is one of the most productive directors of post-dramatic theatre in Croatia, and he has directed and toured all over Europe. His most recent show Ma and Al is based on inspiration on texts by J.D. Salinger and Bernard-Maria Koltès in which the reader can recognise the parenting couple from the dysfunctional family Glass. The space is decorated with fragments of props, and the border between the real and fictitious experience become blurred as the audience is called upon and drawn into the playful hysteria of the actors that play characters from the novel and the play. Issues that are opened in the show are varied and from the everyday: family breakups, the death of a child, American democracy, the relationship between traditional and contemporary theatre, art, the Vietnam war, etc. Strong performances by Senka Bulić and Marko Mandić give us an in depth understanding of Salinger`s and Koltès`s texts.
Ma and Al is a brilliant play, thanks to extraordinary actors who amaze us with a brilliant physical theater, and the director who through the choice of theatrical actions and scenery, achieves the atmosphere of neurotic destructiveness that illustrates the relationship between main characters, or anti-characters to be more precise.(Zrinka Zorčec, Vijesnik)

Mini theater for promotion and execution of puppet and theatre performances was founded as a small theatre from the youngest audience in 1999 by Robert Waltl, an actor, puppeteer, artistic manager and programmer. The company has a small hall at Ljubljana Castle where puppet theatre performances for children. From 2009 have a new theatre building at Križevniška ulica in the old city centre of Ljubljana. Next to performances for children the Mini Teater present also contemporary theatre performances for youth and adults within its Post-drama
Mean performances: Quartet by Heiner Müller, Jackie by Elfride Jelinek , Mad About Vincent by Herve Guibert, Macbeth after Shakespeare by Heiner Müller, Persona by Ingmar Bergman, The Night at the Edge of the Forests by Bernard-Marie Koltès Medea Material by Heiner Müller.

The Mini Teater productions take part in numerous international festivals. The performances were performed in Italy, Austria, Serbia, Bosnia and Herzegovina, Croatia, Czech Republic, Hungary, Poland, Belgium, United Kingdom, USA, Russia, Iran, Venezuela, Cuba, etc.
The Mini Theatre organize the Mini Summer - International Festival for Children.