Platonov goes to Ljubljana
The Ex Ponto International Festival takes place in Ljubljana from 16th to 25th September. In the framework of the Festival the Maladype Theatre is to show its performance Platonov.
This year`s Festival edition will address the following subject: "The end or the beginning?" The Festival will host 16 performances from Slovenia, Croatia, Montenegro, Poland, Czech Republic, Macedonia, Kosovo, Hungary, Romania, Austria, Japan, Slovakia and Belgium. They will be shown at different venues in Ljubljana.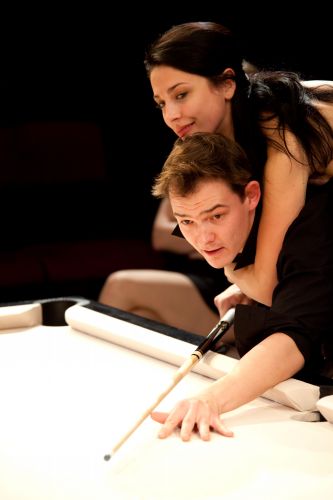 The Festival will be opened on 16th September 2011 with the premiere of The lexicon of the Mythology of former Yugoslavia directed by Oliver Frljić and it will present brilliant foreign productions until 25th September 2011. The first show is A piece on mother and the fathersland directed by Jan Klata. Ex Ponto will host Saloma directed by Branko Brezovec, premiered at this year`s Eurokaz.
Zoltán Balázs will participate with the performance Platonov and Borut Šeparović with Generation 91. – 95. The Festival`s program also includes Waiting room directed by Viliam Dočolománsky, Roosevelt Square under the direction of Radu Afrim as well as some Slovenian premieres. Vlado Repnik and Martina Ruhsam will come from Vienna`s Tanzquartier to Ex Ponto`s stage with the performance How far can we talk?, Milan Tomášik will present Off-Beat, Sabina Schwenner Butcher's Shop and Ryuzo Fukuhara and Samo Potokar Not.all.ways.
Platonov will be shown in Mini Teatr (Križevniška 1.) at 8.30 p.m. on the 23rd September.
After the show a meeting with the artists will take place.