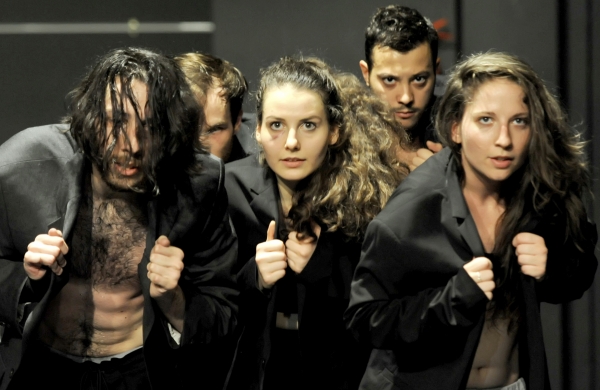 The dance theatre performance of Maladype Theatre
Directed by Ferenc Fehér


The dance theatre performance, directed by internationally acclaimed Hungarian choreographer Ferenc Fehér, is inspired by Fritz Lang's German expressionist science-fiction drama film Metropolis from 1927.
The action takes place in the present and the future at the same time, tells us about the social inequalities among the different layers of the society and the division wall separating the sentiments and the interests of the people. The Metropolis in the abstract sense of the world is the man proper. That is the place where his ideas and social connections develop. The chaotic structures of the city are in eternal movement sodden with loneliness and sociability at the same time.
Metropolis is a wonderful city. Its towers stand high above the ground. People prosper, the economy is flourishing and the suspended streets are busy. But Metropolis also has a great secret...
Fehér's works are characterized by featuring human relations with high accuracy and using individual dancing techniques in the creative process. The minimalistic music structures of his Metropolis develop a peculiar world in his performance interfusing the choreographies of different cultures.



Players:

Gedeon András
Kornél Ádám
Brigitta Dőry
Brigitta Erőss
Andrea Lukács
Gáspár Mesés
Zoltán Pál
Erika Vincze
Lilla Zsenák

Creators:
Music: Ferenc Fehér
Professional Adviser: Ildikó Mándy
Light Design: Dávid Kovácsovics
Creative Producer: Sylvia Huszár
Production Manager: Katalin Balázs

Duration: 40 min, no intermission

Opening Night: 19/9/2020, Eötvös10. Cultural Center, Chamber Hall, Budapest
Produced by MaladypeTheatre, Hungary
Tour:
Studio Radu Stanca FTT, Cluj Napoca, Romania - 2022
Janus University Theatre, Pécs - 2021
Old Synagogue, Szeged - 2021
The performance is supported by the National Cultural Fund of Hungary (NKA) and Ministry of Human Resources (EMMI), Goethe Institution, Imre Kertész Institution