Ágota Szilágyi won the Őze Lajos prize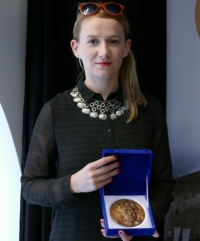 This season Ágota Szilágyi won the Őze Lajos prize forming the Csongor and Tünde double-role. The prize was established by the Castle Theatre of Gyula and it rewards the most outstanding actors of the Arts Festival. The Caste Theatre of Gyula was founded by István Miszlay in 1963. In the beginnings there was only a summer season in the only standing brick castle in Central Europe. Now an International Festval has grown and besides the open air events they offer a full year program with colourful events.
Last summer our Csongor and Tünde was awarded as the most original performance of the Arts Festival at Gyula. The classical Hungarian play of Mihály Vörösmarty was staged by Zoltán Balázs and his powerful concept included the a capella music composition of László Sáry and a DNS spiral on the common, simbolical and magical storylines of the Csongor and Tünde. In the text of Mihály Vörösmarty the mental levels reflect and evolve in a complex-mirroring and create an arts-puzzle with an organic composition of the text, scene, movements and (opera)music. Avoiding the didactic approach hidden in the topic the performance reveal that the Two (Self and the Other) don't exist without each-other; they are conditional and complementary; animus and anima. The reduced and integrated dual "personality type" of a Woman fading into Man meet in an "imaginary space" created by the performers and the audience.
According to the director's lateral thinking the two main roles was played by the eminent actress of the company, Ágota Szilágyi. She graduated in Targu Mures and this is her fourth season at the Maladype. Her roles at the company are Anne of the Richard III by Shakespeare, Olga of the Three Sisters by Checkov, Carmen from Jenet's Balcony and she also plays in the travelled Great Sound in the Rush performance. This season Ágota Szilágyi got the most important prize of the 54th season of the Castle Theatre of Gyula. This is special to our company since Zoltán Balázs, the artistic leader got the same award for his performane as Hamlet in 2006.