Great Sound in the Rush in Geneva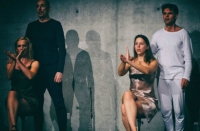 After a guest performance at the Musik Theater Tage Wien Festival in Vienna, the critically acclaimed and popular play, Great Sound in the Rush - realized in the coproduction of Maladype Theatre and Qaartsiluni Ensemble - travels abroad again and is hosted by Théatre Saint-Gervais, Geneva on February 10. During a discussion prior to the performance, the audience can meet with Maladype Theatre's creative team.
10 February, 8 pm, Théatre Saint-Gervais, Geneva

"The happenings are so delightfully diverse, unexpected, adolescent, inspired, erotic, comical, human, surprising that it is entirely hopeless to illustrate it orally in their concreteness."
János Malina: Traditions and Change, 2015.