Maladype's End of season party with Touchstone Theatre (US)
On June 17, we are closing our season with a special program. As part of our CROSSROADS series, we are hosting our American friends, the Touchstone Theater. They are going to perform their play BHUDOO at an unconventional location. After the performance, we will bid farewell to the 2015/2016 season all together with Touchstone Theater, Maladype`s team and our audience. The end of season event will take place in the garden of Adna Café on 6 Török Pál Street.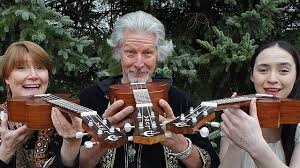 Touchstone Theatre's Bhudoo (pronounced BOO-doo), a musical fable from a far-away land that tells the story of three wizards vying for the title of Royal Grand Vizier, and for the audience`s favor at the annual Bhudoo Games. Who will emerge victorious? Can the game truly be won? Will they learn to peacefully coexist or battle to the end?
A note on the content: While live performances are by their very nature subject to change, audiences should take special note that no two performances of Bhudoo will be exactly alike, and choices that are made will have consequences…
BHUDOO

Performers:
Araman, the Royal Grand Vizier: Bill George
Deryn: Emma Chong
Maj: Mary Wright

Director: Jp Jordan
The play is performed in English.
June 17, 2016, 7 pm
Adna Cafe Garden
6 Török Pál Street, 1093 Budapest

Relationship between Maladype Theatre and Touchstone Theatre:
Maladype Theater first visited Touchstone Theatre in Bethlehem, not too far from New York City, during its American tour in 2014. There, they performed King Ubu with great success. This time around Touchstone Theatre is visiting Budapest, performing its play titled Bhudoo to Hungarian audiences as the closing event of the season.
Touchstone Theatre was born out of an encounter between improvisational street theater groups in 1981. Their once unorganized street performances got an institutional framework in the beginning of the eighties; their philosophy and methodology, however, have retained the sense of creativity and the strong presence of the actor expressed through improvisation. Similarly to Maladype, they continue to reflect on the vibrations of their immediate and wider environment and pay emphasized attention to the study of social processes.

Reviews:
Bhudoo" is an audacious theater piece that transports you to an alternative world a lot differant than our own.
Or is it?
"Bhudoo" is a metaphor for the world we live in. It's an idealized creation of the world as it is, as it has been and as it could be. "Maybe the magic is real" is the play's byword.
Touchstone's wide world of 'Bhudoo', Paul Willistein, 15 April, 2015.

More information:
http://www.touchstone.org/our-productions/now-playing/