Maladype Theatre presents new coproduction performance
The Master and Margarita after Bulgakov

Why would the devil pay a visit to a contemporary city, and what sort of business would he conduct there? What seems a fanciful premise wasperhaps less so for a persecuted writer in the Soviet Union under Stalin. Mikhail Bulgakov completed hisnovel The Master and Margarita just before his death in 1940, but it remained officially unpublished until 1966, whereupon it achieved the status of an underground masterpiece.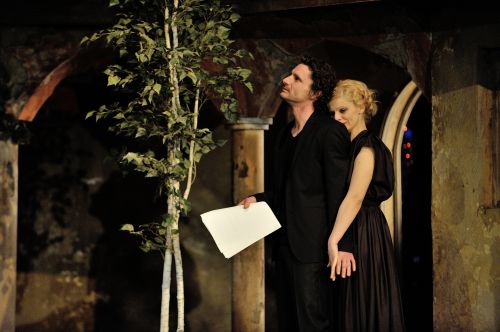 Opening night of the new coproduction performance of Radu Stanca National Theatre Sibiu and Maladype Theatre Budapest will take a place in Sibiu:

Master and Margarita I. – 22 March, 2013 at 7 pm
Mater and Margarita II. –23 March, 2013 at 7 pm
Master and Margarita I. –24 March, 2013 at 7 pm
Director: Zoltán Balázs

Cast: Diana Fufezean, Mariana Mihu, Serenela Mureşan, Gabriela Neagu, Ofelia Popii,
Cristina Ragos, Erika Tankó, Arina Ioana Trif, Eva Ungvari, Ema Veţean, Mihai Coman,
Florin Coşuleţ, Dan Glasu, Zoltán Lendváczky, Adrian Matioc, Adrian Neacşu, Ákos Orosz, Eduard Pătraşcu, Cătălin Pătru, Viorel Raţă, Vlad Robaş, Ciprian Scurtea,
Marius Turdeanu, Pali Vecsei

Original script: Ilona Kiss and Zoltán Balázs
Translator: Crista Bilciu
Set and light design:Velica Panduru and Zoltán Balázs
Costume design: Velica Panduru
Choreography: Zoltán Balázs
Music: Zeno Apostolache