Tristan and Isolde - Coproduction of Maladype Theatre and Mini Teater
The performance, full of little and intelligent solutions, aesthetic additions, rationally uncatchable ambivalence (set and costume design by Ana Savić Gecan) is a trip into the borderline author's view of a love discourse of Tristan and Isolde, which legitimately isolates itself from all the linear procedures.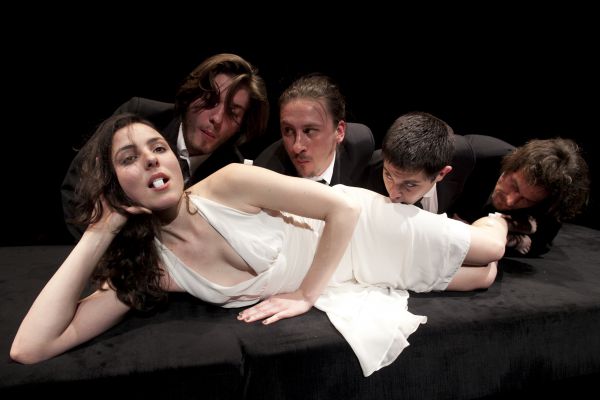 At the interpretation of the mythology of Tristan and Isolde the director radically shortens the story, cleans it of borderline situations and side characters, also of specific history references and traditions of presence. The core tension is focused in love triangle of Isolda, Tristan and his uncle Mark Kornvalski in a relation narrowed and many times overtaken emotional territory. The cut backs of the dialogues to the basic and most important meaning enlarges the space to extra codes – unstopped choreographed movements, symbolic talk and set minimalism." Zala Dobovšek (Delo, 12th April 2012)

The Hungarian director and Maladype Theater CEO from Budapest, Zoltán Balázs, has set on Mini teater's stage the eternal story of Tristan and Isolde inspired by Jean Cacteau with young Slovenian actors. Excellent responses from the audience followed an amazing premiere night.

The story of Tristan and Isolde is a constant fluctuation between life and death, dream and reality - their love is the fragile experience of momentary eternity. Equilibrium between the commonplace and the ethereal, the concrete and the abstract. One body. Two hearts beating as one. The reflexes of twin souls. Their story presents an opportunity to review the promise of Eden fulfilled . . . What tore this world apart? Zoltán Balázs`s production in Mini teater seeks an answer to this question - enquiring into the delicate balance of the relationship between man and woman - by unconventional means.

The selector Primož Jesenko has presented and explained the selection of the performances of the competitive program in which 12 Slovenian theaters will present themselves with their performances. The accompanying program consists of the following parts – Showcase, Generations and Bridges has been put together by Primož Jesenko and Alja Predan and consists of 11 national and 7 international performances.

Tristan and Isolde (inspired by Jean Cacteau)

Conceived and directed by: Zoltán Balázs

Cast: Vesna Kuzmić, Ana Urbanc, Jernej Čampelj, Robert Korošec, Rok Kunaver, Tadej Pišek in Marko Ujc
Dramaturgy: Judit Góczán
Stenography and costume design: Ana Savić Gecan
Assistant director: David Cerar
Production Manager: Sylvia Huszár
Technicians: Tilen Vipotnik, Marko Levičnik in Anže Kreč

Opening Night: 24 March 2012, Mini teater Ljubljana

Co-production of Mini teater Ljubljana and Maladype Theatre Budapest.
The play is a part of the "Puppet Nomad Academy 2", Project EU, Culture 2007-2013.